ya ya ya ya ya ya ya ya ya…GO!
had planned to have all this sorta past history schtuff dun by years end…
but alas & alack…
starting out in wplns…
we had th' rather well known…
fore 'n' aft…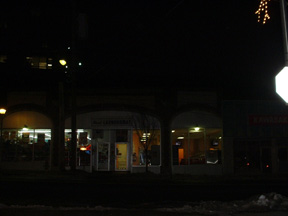 th' main hang out fer th' granola & haki sak doobage smokers…
of s'dale hs / other 'upscale' environs…
mostly of th' laster vestige hangers-on…
of th' dead-set & offshoots / 'children' / acolytes…
( new riders of the purple sage every year / or need of quik cash fer xlnt hash! )
i only went there apprx 5-6 times…
always enjoyable… tho i always felt i was looked at as an 'outsider'…
weird… considering these were supposed to be 'liberal' & open-minded types…
now it's a fleekin' laundromat fer chrissakes!
jest down th' blok was th' lesser known ( and fer good reason )
'DiPaoLo's DuGOUT'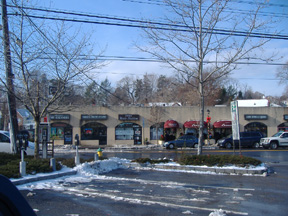 whut was circa 1981-1983…
a low-brow mainly junior hi-skool crowd dreaded 'DiSCo-Wave' bar…
where th' Disco DJ would play 'punk'… meaning B-52s…
went there twice=2X too many times…
i think th' 2nd time th' groop i was with got in a fight with sum guidos…
i think th' owner threatened to call th' cops….
so we hi tailed it outta there…
cruise out th' 5 minute @ 75+mph in a car…
and PoRT CheSTeR had a buncha great places latter '70s – mid 9Ts…
the furst of which was…
DeTROiTs! ( in th' OLd CaLdoRs shopping centre / now Kohls )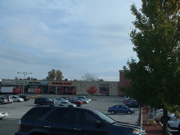 the date was june 27 1979… i was 14 @ th' time… 9th grade RooSeVeLT HS Ynkrs…
there were a coupla seniors that had TWiSted SiSTeR jean over LeaTheR jackets…
anyway i was by then a total 'waver'… blondie t. heads iGGy clash stranglers…
but my uncle who was 18/19 then was more 'rock & roll' had wanted to go see TS…
so we convinced my grandma that we were jest gonna go…
'cruise central'… ( central pk ave ynkrs )
but we went t' PoRT CheSTeR DeTROiTs instead… the pking lot was purty packed…
i hung out /w/ th' buick skylark ( 350 small block & PoSi-TRaCTiON rear )
lissening to wpix & tossin back a six pack 'o' miller 'nips' ( 8oz bottles )
here's whut i missed inside… ( thx to wlir broadcast )
JJ FReNCh tells a tale of JuNioR Hi-Skool…

TS CaN'T Say CRaP on th' Radio…

FaST-FWd to mid 80s… LeFT BaNk is closed… ANThRaX in CT too far fer NO CaR…
but then there was The BEaT!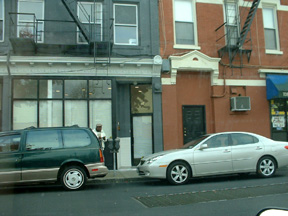 and that leads us back to…
ya ya ya ya ya ya ya ya ya…GO!
i usedta go t' cbgbs & see ARMed CiTiZeNs & VaTiCaN CoMMaNdos in 1982…
and tho i'm not sure i knew it then ( later i mean… circa '86-'87 )
th' GTRiST fer
VaTiCaN CoMMaNdos had become th' DJ @ Th' BEaT…
and he usedta spin a half-hour ToNes on TaiL 'GO!'…
after that werk-out he'd play iT's a beautiful day's "white bird" fer chill out…
that DJ's name was
Moby…
Robt ( No. 2=prev. fum laster daze @ LeFT BaNk ) werk'd th' door…
i remember one time in that summer he had no place to go…
sum fight /w/ g'friend or sumthin or other…
so we both rode our bicycles the 11 or so miles…
back to 13 Oak Way S'dale basement…
where i was living @ th' time…
RoBT & ChRiSTiNe th' barmaid / 'booking agent' were kewl then…
then sum ASSWiPe took over th' door…
i had by then opened up ReX in ynkrs… this was 1991…
and i had jest wanted to get a beer or two in a 'friendly' atmosphere…
so i drove up there & it was already way late… like 1:30 AM…
and th' guy wanted $2 admission on weeknite /w/ no band!
SCReW ThaT!
nexter week SMaShiNG PuMPkiNs Play'd & i jest stood outside & lissen'd…
good enuff fer me as i wasn't totally ga-ga over 'em anyway…
already leery 'o' th' hype on 'em…
ASSWiPe kept tossin quarters toward my feet…
eventually there were at least $2 in quarters…
so i challanged him…
"hey that's more than you wanted to charge me th' other nite… i could turn a profit!"
bummed out he ended up bending down t' pick up his change…
i then pulled out a coupla hundreds, flashed 'em & then walked away…
"see what you'll never get from me if you're werkin' the door!"
other bands i did see @ th' BEaT then…
rev horton heat! ( i have this sho on video!!! )
pain teens ( need this sho on video! taper had promised but nvr came thru… )
also affiliated /w/ the BEaT was 7 Willow St…
sorry no pics on this place… mostly i was not too innarrested in their whole scene…
tho i did see fLiPPeR, Th' DWaRVes & ed hall… it was AWeSuM!

fLiPPeR & Th' DWaRVes were constantly fighting…
with th' club mngmnt, with 'fans' ( not too many 'o' us ) & most of all /w/ each other…
ed hall stay'd /w/ me @ 'Le ChaTeau ReXCo' that nite…
they was happy t' have a shower th' nexter day w/out payin fer motel…
b4 heading back on th' road / tour-grind…
can't ferget Th' CRaP-iT-ALL…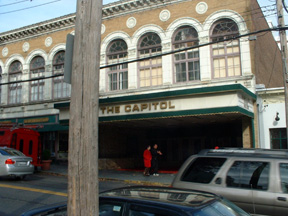 i mean CaPiToL Theatre…
saw iGGy there in '87… jane's addiction opened… they were xlnt then… iggy… well…
missed th' RaMoNes…
and tho i also didn't go t' this sho either…
here's johnny 'rotten' nee lydon…

yeah well sum of us here in wastechester think yu have treated bandmates 'orrible!
( video cut in tmpeg / re-encoded in WiNFF )
LaSTLy, but CeRT not LeaSTLy…
PaT's HuBBa-HuBBa HuT!!!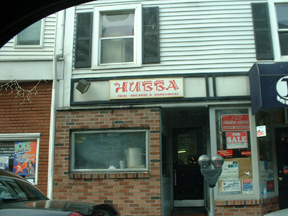 tho i ain't th' real red red meat fan since i was a kid…
( still 'i eat more chicken than a man ever seen' = figger that one out fer yr door prize! )
ONe SiMPLy CANNOT GO TO A Sho iN PC W/OUt a GREASy HuBBa BuRGeR t' end Th' NiTe!!!
so i think that about does it fer me on all this reflective 'daze of yore' scthuff…
here's a link to an article i found fascinating & strangely relevant…
http://www.economist.com/world/na/displaystory.cfm?story_id=10278717