quoting monty python…
"and now for something completely different…"
( if yer waiting fer wastechester clubs pt 2… 'soon…' pls be patient… )
ok, ok, ok, we all know the world situation right now sux like, beeg time…
but every so often a luminary figure emerges…
to shake us to our very core…
and in their doing so make us put 'faith' back into our collective humanity…
the year was 1990 & then as now, there was a bush in th' w-hizzie….
then as now, we was involved in a largely politically motivated conflag in iraq…
th' diff was… in 1990 we had Ken fLeekin' DeFeudis to SaVe US!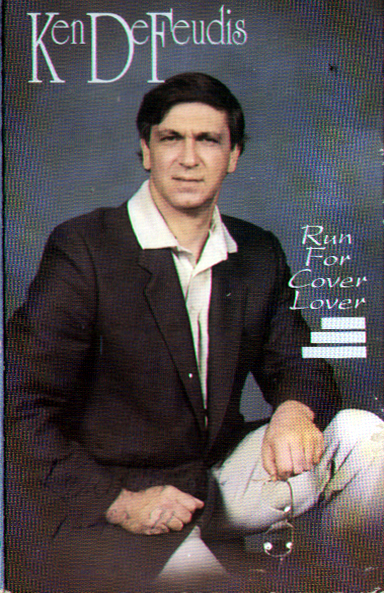 who you ask? well most would have you believe he ( ken, that is )
was fum PaXToN, MaSS… but NO! we, under the influence, actually called the fone no…
on the back of ken's MeGa-HiT "Run for CoVeR LoVeR" CaSS-SiNGLe…
and ken revealed he was fum Nu Ro, wacky wyckagyl, to be precise…
we talked for about 10 min, actually barbara, being more stoned, did most of the…
'like, you know, your song is SO CooL' ego strokin'… but we hadta go…
The LoNG DiSTaNCe charges were piling up…
so that was all we thought we'd hear of ken…
when Lo & behoLd about a week & a half later… we got 2 letters fum ken!!!
one was at least 4 pages of gushy rambling addressed to barbara ( which she kept )
and the other was a 7 pg bio / presskit /w/ lyrics & handwritten notation…
page 1
page 2
page 3
page 4
page 5
page 6
page 7
( i lurve th' way ken wove nietschze in there! )
thereupon the gauntlet was thrown down!
i had sold like 7-8 or so of the cass-singles…
and i told several people to write ken, & ken would most likely respond…
john franko, always the trooper, rose magnificently to the challange…
and the back of the cass-single you see above is inscribed thusly…
oh… btw… here's sum ken-toonz…
i CaN'T SToP LoViNG YU!

( altho i can really give it a try after lissening t' this! )
finally… ken really wants to know…
ARe YU LoNeSoMe ToNiTe?

'cuz if'n y'are he'd prob like to come over, hang out, make an omelot…
& then fall off a ladder outside yr house…
but don't worry folks, he's almost better…
so in closing…
tina turner sang "we don't need another hero" in mad max 3 (beyond the thunderdome)
but i say nay…
times such as these we all deserve a real-live roman god jest like Ken DeFeudis!!!
and also… if someone could e-mail / post "run for cover lover" cass-single…
it'd be mucho appreciated… mine's is temp 'lost in the clutter'…