OTaY…
finally found those Left Bank 'upcoming calendars'…
( furst sho i tried to get into @ Left Bank was PLaSMaTiCs sho i think in Oct 1980! )
beside being 'sold out' way beyond capacity…
they took one look @ my bogus fotocopied scratch'd & 'white-out'd' birth certificate…
( i think i was still 15 @ th' time & had tried t' add two yrs & make an 11 look like a 10! )
and the owner said 'try again & next time at least try to make it look somewhat passable' ( ! )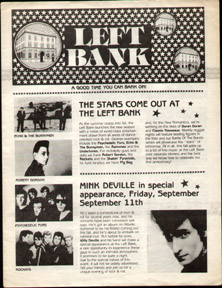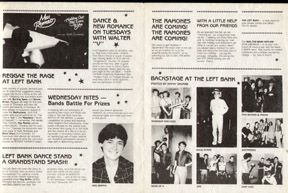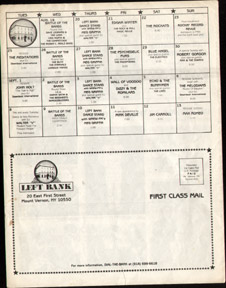 i went to the Rockats sho… it was xlnt…
a whole lotta boppin' phun!
there was also coupla 'rockabillys' ( guys & gals )…
that hung out @ The Left Bank back then…
Dave 'ELViS' fum Pelham…
and 'Rock-a-BiLLy Mike' fum Ynkrs…
( who later became 'batboy' fer th' METS! )
tried t' get into th' Psych Furs sho…
purty sure it was sold-out & the girl @ door was 'antsy' about underage ( me! )
BLUe ANGeL was Cyndi Lauper's furst group…
she went thru a few costume changes during th' sho…
and there was a pair of lycra pants she was wearing…
where th' zipper 'unzipped'… ( ! )
btwn songs i called her o'er, whisper'd in her ear & she turn'd round & zipped up!
dunno why i didn't go to wall of voodoo…
cuz round that time tony bianco & i usedta lissen to "LoNGARM"…
fum their furst mini eL Pee ALoT!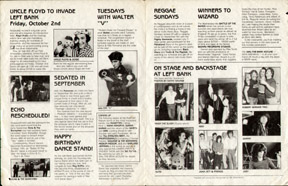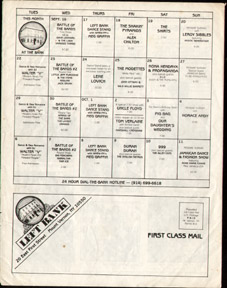 the LeNe LoViCh sho was also s/o ( sold out ) so i was turn'd away again @ th' door…
dunno why did not go to modettes…
"white mice" was BiG 'HiT' on WNYU 'New Afternoon Sho' @ th' time…
prob jest didn't have Th' $$$…
then there was a halloween '81 'fashion sho'…
i kno ANoMy were there…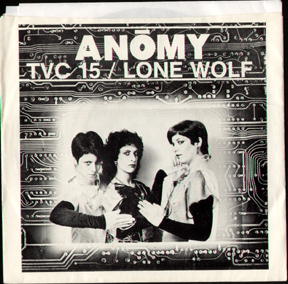 they were wearing 'electronic wear'…
that made 'beep-boop' / 'bLip-bLip' noises!
also Sic F*Cks play'd…
tish & snookie fum MaNiC PaNiC…
were already 'LeGeNds' by that time…
RuSSeLL was v. sweaty & i believe his mom ( ? ) was also in the audience ( ! )
saw Our Daughter's Wedding & PiGBaG ( ! )
PiGBaG had like 8 guys & did not stop playing…
there were NO 'breaks' btwn 'songs'…
they jester went either 'cold' stop/start…
or the 'songs' would 'morph' into diff song…
there were times when each of th' members would grab their own…
seemingly 'pre-scheduled break'…
jump off-stage… run to th' bar & grab a beer!
after sho tony bianco & i went 'backstage' & 'hung-out' with ODW…
( who were acktually lokels fum nu-ro… new rochelle )
and smoked a joint with 'em!
following week was DuRaN DuRaN… 'PLaNeT EaRTh' was gettin WNYU airplay…
and tho it was well attended it was NOT SoLd-Out!
i think this was mebbe when mvp ( mt vernon police )
'raided' th' place & the staff 'shuttled' me btwn ducking into girls bathroom…
and hiding among coats downstairs! ( !? )
th' owner had some 'friends' on mvp force…
so there was usually a 'heads-up' warning…
'those were th' daze!'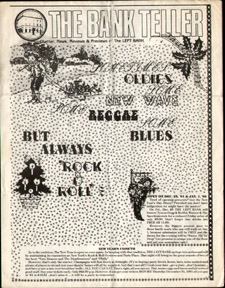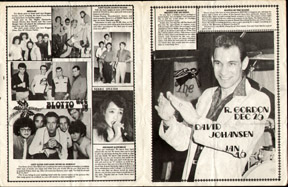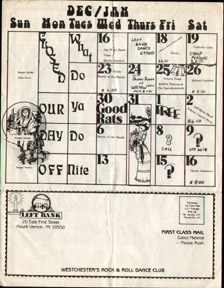 this girl fum roosevelt hs i was 'going out with' at th' time…
did not wanna go to Left Bank fer New Years DaVid Jo Sho…
i think she was 'scared of punkers' ( ? )
that was th' BiG 'myth' that was being pushed by TV people then…
so went to PEAChtRees in Nu-Ro fer Dec 31 '81 into Jan '82…
where th' ONLy song i can remember they play'd that i liked was…
ToM-ToM CLub's 'WoRdy RaPPiNGhood!
i can vividly recall during a particularly painfully awful 'sLo-DaNce'…
that i REaLLy wished i went to th' Left Bank instead!
somewhere round this time…
the main HC guy that 'hung out' @ Left BaNk…
frankie d – who also did 'DaMaGed Goods' Zine…
( i'll post scans of one issue i still have… 'soon-ish'… )
i believe had convinced th' owner…
( who's name escapes me now… any help anybody?
…i remember pauly was th' sound guy… )
anyway… frankie 'conned' him into booking a coupla HC shos…
the first was DoA… tho i missed that one…
i du remember talking about it /w/ frankie afterwards & he said there weren't too many people…
and it went down without a hitch…
so he booked BLaCk fLaG…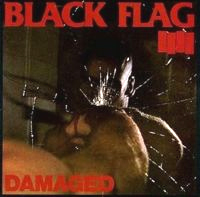 who were becoming purty big among the suburban teen punk 'diaspora'…
that sho i could NOT miss…
Sac tRuSt play'd on the fLooR… 'PaGaNiCoNs!' LiVe!
so the 'crowd' could not dance!
iT Was ALL 'JaGGed' & brimming /w/ TeNSioN!
meanwhile…
dez was outside drinking moonshine!
( i shit yu not… he gave me a taste! )
i kno other 'straight edgers'…
( 'movement' had just started round then! )
were giving him & anyone else who had a swig dirty looks…
and there were a fair amnt of these 'underage' that couldn't get in…
so they were 'hanging out' in front & in pking lot round th' corner…
i bought first ish of FoRCed EXPoSuRe ( with john stabb on cvr )
fum lyle hysen ( misguided ) & gave it to paul ( sheer terror ) @ roosevelt hs later that week…
anyway… more bout th' sho…
henry was still fairly 'new' but starting to gro his hair…
rest of band was becoming purty 'long hair' / 'hippy'…
effin dual gtr line-up /w/ dez!

paul roessler ( new guy then on drums – robo had moved to nj to join misfits )
was like 16 then… he had dreadlocks ( ! ) which was 'rare' then…

CReePy CRaWL in FuLL-EFFeCT!
HeNRy would 'BuG' his EYeS out 'aLa MaNSon'…
and hover his hand o'er th' ( then new ) spider tattoo…

headliners ANGeLiC UPStaRts were in that…
"NeVeR Say Die" ( 'HaRd New WaVe' ) style by then…
it was 'okay'… def werth it fer "who murdered liddle towers" sing-along…
'somewhere' i think i still have Aquarian Weekly review of sho… dunnowhere tho…
i also should interject here that Dave was th' other 'REAL HC' guy…
that 'hung out' @ Left Bank with frankie d…
he later became known in NYHC 'scene' as NaVy DaVe…
'cuz he went AWoL…
( and i believe got 'caught' & sent to 6 mos in brig ? )
finally in closing…
mvp ( mt vernon police ) were constantly driving around th' block…
'monitoring' underage 'loitering' ( who were also 'heckling' as 5-0 cars passed )
so th' owner of left bank was purty spooked by th' whole thing…
and that then was the LaST HC sho @ Left Bank…