sum mor t' get sum discussion goin'…
( jest kinda rushin this post so sorry fer lack of info )
dunno nuthin' bout this 'un…
snagged it off e-bay coupla few yrs back…


The Saints & Sinners ( Ca. 1965 Moon SS-401 )

"ooh-poo-pah-doo" ( Decent cvr of Jessie Hill 1960 N'awLins MiNiT LaBeL CLaSSiC! )

"mercy, mercy" ( cvr of Don Covay '64 Soul Rocker! )
both recorded at GLen iSLaNd CaSino in Nu-Ro!
anybody kno 'em? anybody seen 'em? ( or seen other groops at GLen iSLaNd? )
next onto the more well known…
ReN-VeLL 'BaTTLe of The BaNds' ( 1967 )

mines is in CRAPtaStiC shape… ( SkiPs ALL OVr The PLaCe )
and it's also missing th' ( Rather Lame ) TiTLe CVr…
but i DU GoTTa thank th' ONe & ONLy B. Devereaux fer givin it up… GRaTiS
still, there is some 'charming' schtuff on here…
01. Raunch (BRiaRCLiff ) – "hungry" 2:53 ( decent cvr of P. ReVeRe & Th' Raiders… )
02. The Night Riders ( PoRtCheSteR ) – "jenny" 2:32
03. The Vectors ( BRoNX ) – "angel baby" 2:19
04. The Night Crawlers ( WhiTe PLaiNs ) – "out of sight" 2:28
05. The Reptiles ( OSSiNiNG ) – "glass toy" 2:51
06. The Henchmen ( PLEaSantViLLe ) – "say" 3:07
07. The Gyrations ( YoNkeRS ) – "steppin stone" 2:20
08. The Mystics ( VaLhaLLa ) – "lollypop train" 2:47
09. The Hangmen ( EaStCheSteR ) – "didn't want to have to do it" 2:40
10. The 'THE' ( YoNkeRS ) – "respect" 2:13
11. The Orphans ( WhiTe PLaiNs ) – "feel a whole lot better" 2:44
12. th' TraiTs ( PeLham ) – "high on a cloud" 3:33
the TRaiTs "high on a cloud" has been comp'd…
hit the 60's comp database link
if anybody out there can send me a CLEaN CDR of this eL Pee…
it'd be MuCho APPReCiated!
can't ferget THe TRAiTs AWeSuM '69 follow-up…
better things

here's the back cvr /w/ lyrics
KeWL 2-sider!
here are th' ONLy Other 2 Ren-VeLL Rekkids i've been able to trak down…


The Sherwoods "Third Summer" / "lonely for you…" RV-318 GoLd LaBeL
found this thru Le iNteRnet SeaRch… fum dealer in fRaNCe!


been awhile since i lissen'd tu it…
so i'll leave comment fer later…
got this nexter one one fum p. kanze 'bout 15 yrs ago… ( thank yu vely much! )

The Mystics – "ride my pony" (come) / "this is what i was made for…"
( 1967? ReN-VeLL RV-320 )
so… the mystery remains… was there a RV-319? ( i dunno… )
btw… by th' way… the 317 number refers to 317 N. Central Pk Ave W. Plains…
sorta across the street fum where Reggie Pink Harley Motorcycle shop is/was…
and only 1/2 mile fum wheres we's nows lives!!!
The RAUNCh aLso had anuther SiNGLe…
this one is courtesy of the inimitable RiCk LyNch of YNKRS…


i'm sure i taped it when he dropped by coupla yrs ago…
but i dunno where i'se puts it right now!
here's th' Other SeMi-BiGGie WeStCheSter GaRaGe eL Pee…


mor bout it in nexter post tho…
i'm a gettin tired…

yeah… start out small here… hopefully…
some of you others out there in the darkness…
will surf thru…
mebbe get in touch…
send pix… remembrances…
some people that were there…
that my often drug addled 17 yr old brain…
can still recall…
eva p… frankie d… rose-marie… freddie…
the 2X robts… ( both fum th' bronx )
but one ended up at The BEaT in portchester…
walter v the dj n DJ RiChie too… among many many more…
all of yu… 'We LoVe YU, PLEaSe CaLL CoLLeCt!'

i can report that andrea… orig in th' OuTTa PLaCe…

( this was also with the teen-age chandler… pre-RAUNCh HaNdS! )
was in eL Lay with Rudi Protrudi & The FuZZtoNes ( 2000-2002 )
http://www.fuzztones.net/ghastlycast.htm
saw 'em both ( FuZZtoNes and Th' OUTTa PLaCe ) at the Left Bank…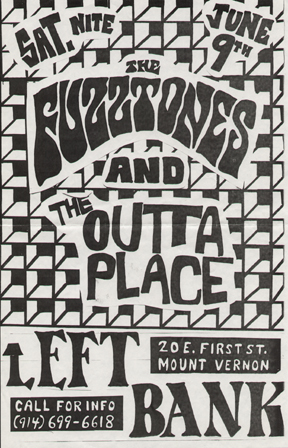 also Gerry of Cartoons ( 1554 Central Pk Ave Ynkrs 1979-1989 )
and the band ( really jest a commercial / novelty promo tie-in for the salon )
Cartoons ( Yonkers )
– She's A Rock And Roller / Who Cares 7″ CPI, 1981 PS
http://www.collectorscum.com/volume3/ny/
has his own salon in eastchester down by the rail-road station…
( PS… i sorta need a copy of this single fer 'The ARChiVes'… )
prob THe BeSt Lokel 'New Wave' band at the time… The GO!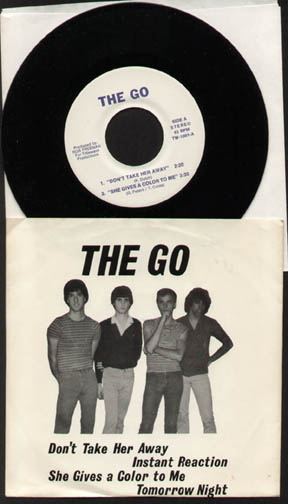 has their own site…
i've temporarily misplaced my Left Bank upcoming events calendars…
so all i have fer now is this pic…

GoF4 ( GaNG oF FOUR backstage at The Left Bank 1981! )
i didn't get to this show cuz i was sick that week, couldn't werk=no dinero!
hopefully nexter post… odw… anomy… sum mor mebbe too…